Welcome to the New Website
16 February 2010
Welcome to the new website. After many months of planning and many hours of work, I've finally completed the new website along with a new CMS. Why would I create another website? Well apart from it being due time, I thought I would simplify the layout of the website and make it a bit more usable, likable, and useful to the average person (unfortunately some were a bit taken back by the craziness of the 3d background on the old website). Also I thought I would better showcase what I'm capable of by not only building this website in a custom programmed content management system, but by adding practical features that I've used with other clients (Testimonials, Twitter & Facebook integration, nifty interactions etc.).
Behind the scenes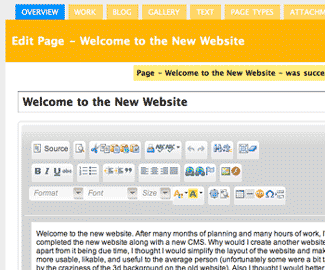 Behind this nifty website is a content management system (or CMS) that I have built. It's a system that's evolved over the last couple years; one that I have built to be a foundation for future projects and website, allowing for more complex features while still keeping a simple interface for people like you to manage your website super easily. The system was hand coded myself from scratch using Ruby on Rails (read more about Rails, view well known Ruby on Rails websites). In the future I plan on releasing a public version of the CMS which will allow you to log in and see how it works yourself. Stay tuned for that.
In the meantime, subscribe to my RSS feed to stay tuned for future blogs and work (click here for more info on blogs and RSS feeds). I plan on writing posts regularly. Hopefully it will all be useful and intriguing information pertaining to websites and this crazy world of the internet.
Thanks for stopping by!
blog comments powered by

Disqus